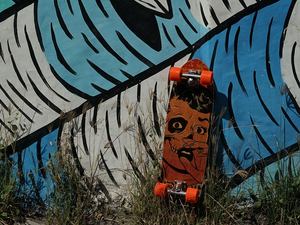 Biafra Inc x Rolling Tree Collab
Rolling tree is stoked to collaborate with Biafra Inc, a local Minneapolis legend. WE teamed up toproduce the graphics on the Monster GS and Radix Cruiser skateboards.
Biafra is a Minnesota local; taking his name in part from Jello Biafra from the band Dead Kennedys, the first band he got into that had content in their lyrics.His work is a visual retelling of stories that are a part of his life. A lot of his work is a critical look at white, American culture. 
Biafra is a multifaceted artist who uses a variety of mediums including; spray paint, screen printing, stencils, stickers and posters. As his work is spreading further across North America he continues to work tirelessly to get his imagery out to the public.  Biafra's work can be found all over the city streets and alleys of Minneapolis and Saint Paul. 
---